Car:
2001 Subaru Forester L
Initial Impression:
I ordered the comfort ISC knob in blue and the first thing that caught my eye when I opened the box was def the color. The blue anodize really popped. The weight of the knob is def much heavier than my previous shift knob, but a very similar shape. When initially holding it in my hand, it seemed like it was a bit small compared to my current one. However, when placing them side by side they were the exact same size.
Finish:
The Finish of the knob is very smooth and the anodized color is nice and bright. I would say its is pretty similar to WRB. My only gripe is the lettering on the top didnt face me 100% when the knob was fully torqued down. But after spacing up the shift boot enough the knob became pretty snug and I was able to get it where I wanted. I also like the fact that the color gave a nice contrast to my purple anodized jet engine seal around the boot.
Drivability:
Ive noticed it is a bit easier to put the trans through the gears with the extra weight of this knob. I am unsure on weight comparison with the stock knob because I never ran one. The feel is about the same as my old one (due to them being the same size) but I am def a fan of this one more.
Overall Impression:
Overall I am very pleased with this knob and would def recommend it to others; just like all the ISC products. I cant wait for spring to come so I can grab some ISC Coilovers for the Forester (to match my LGT) and some of their new spacers/adapters (depending on my wheel choice).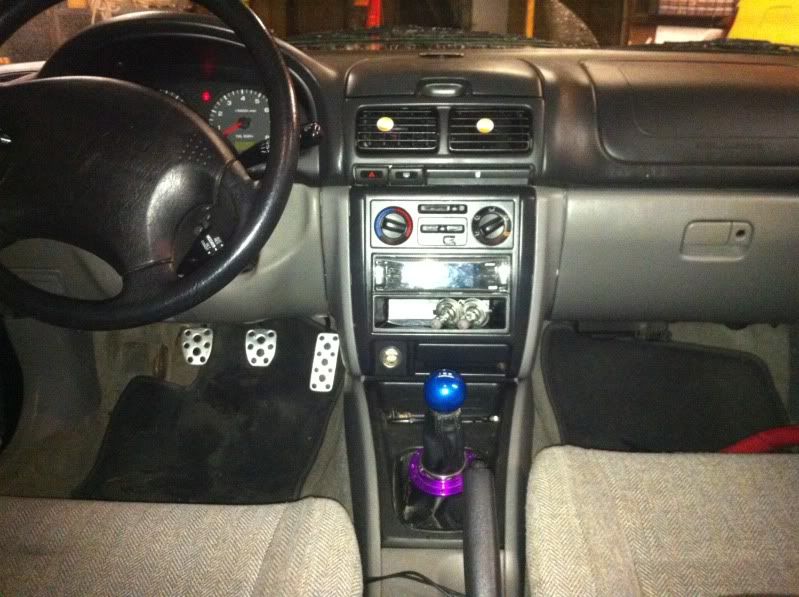 More low needed? hahah
The LGT is also on ISC Coilovers and very happy with these as well!!
Basic Info on the knobs:
MSRP: $55 USD
Where to buy:
http://iscsuspension-na.com/store/#!...=0&sort=normal
or contact AJW Performance
This is from ISC's blog/website describing the different styles.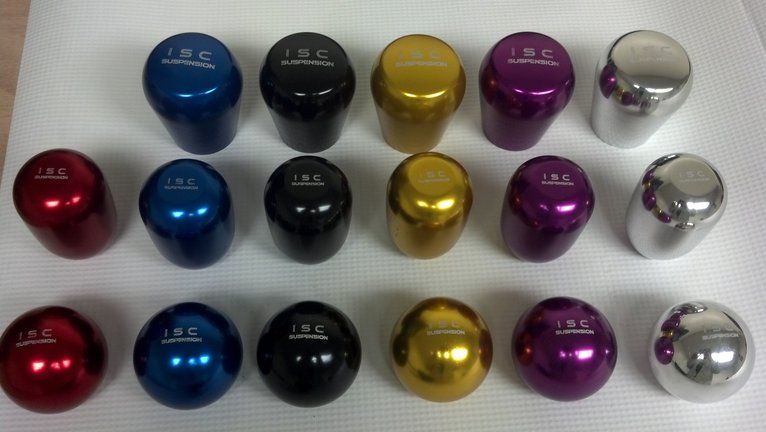 The ISC Comfort series knob is our most popular knob. The perfect round shape is ideal for the natural contour of your hand. Made of anodized aluminum this knob gives a better shift feel and compliments any interior theme your vehicle may have. Represent your favorite coilover inside your car with the ISC knob! Comfort- 125G
The Sport series ISC knob is a hybrid between the design of the comfort and the Race series. Still easy on the hand but has a bit of a flat top for quick precise shifts. Made of anodized aluminum this knob gives a better shift feel and compliments any interior theme your vehicle may have. Represent your favorite coilover inside your car with the ISC knob! Sport- 145G
The Race series ISC knob is ready for anything you can throw at it. With a massive lateral surface area this knob can make fast shifting more precise and accurate. Made of anodized aluminum this knob gives a better shift feel and compliments any interior theme your vehicle may have. Represent your favorite coilover inside your car with the ISC knob! Race- 165G