This walk through applies to 05-07 LGT/OBXT and 06-07 Tribeca B9s with original heated side mirrors. I do not know if there were non-heated side mirrors on 05-07 LGT/OBXTs and I am not sure if 07-09 mirrors are exactly the same, feel free to correct me.
Also, this part does not fit any 05-09 NA Legacies/Outbacks since NA mirrors are different.
All USDM cars come with flat driver side rear view mirror as opposed to panoramic mirrors on both driver and passenger side on ROW vehicles. Passenger side on USDM car is still panoramic (go figure) and has the text warning that says something like "objects are closer than they appear".
I was able to get few ROW driver (or I should say LH side) panoramic (convex) mirrors for 05-07 LGT/OBXT and I swapped one in my 05 LGT and wife's 07 Tribeca (06-07 Tribecas have same side mirrors as 05-07 LGT/OBXT).
Part numbers:
91039AG010 - LH side mirror without heating element
91039AG030 - LH side mirror with heating element
91039AG030 was about $20 more expensive and it is rather easy to transfer the heating element but the choice is yours.
Tools needed:
- long fine flat screwdriver - for plucking the mirror of the base, best one for job is one for electronics;
- reguler flat screwdriver - - for easy snapping the new mirror back into supporting bracket;
- pliers - for holding heating element while disconnecting power;
- heat gun or hair drier - for removing mirrors from plastic holders and moving heating element;
- some trim removal tools - these are optional - for removing mirros from plastic holders.
Removing the OEM mirror:
Tilt it all the way up to gain as much opening at the bottom between the mirror plate and mirror housing. Like this: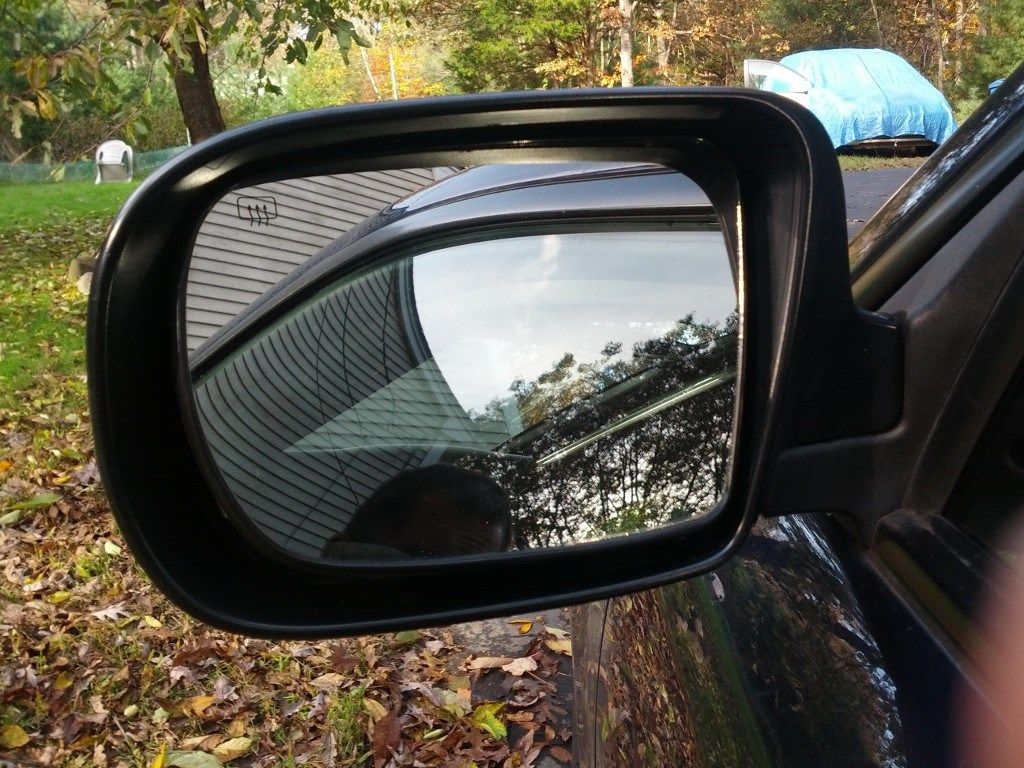 You will need to use the long fine flat screwdriver to pluck the mirror plate of the supporting bracket. Supporting bracket is made of some semi-soft white plastic that is flexible. You will need to work in these two marked areas reaching from the bottom through opening between mirror plate and housing (this is getting ahead but this will make it easier for you):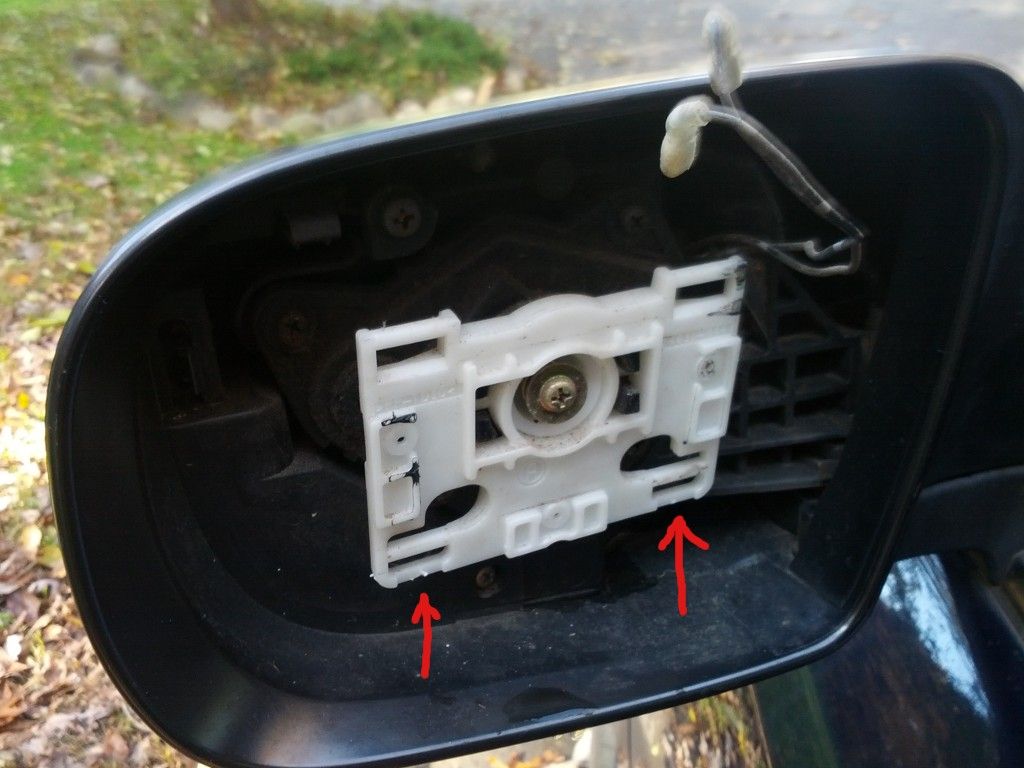 Be patient and take your time, once you make a little opening and manage to insert the screwdriver between plate and bracket it will come off in matter of seconds.
Once you undone the two locations at the bottom, adjust the mirror to look all the way down. Then remove it from the white supporting bracket by pushing the mirror up and out. This is how it looks after it's off the bracket:
Now you need to disconnect the heating element. Using pliers hold the contact pins in place and slowly work out the harness connectors, you want to take easy on it here in order not to destroy the heating element.
If your OEM mirror is not heated or you opted for 91039AG030, you can skip this part and just install new mirror at this step. Otherwise read on.
After harness is disconnected, OEM mirror comes out completely. The only part we will reuse from it is the heating element, nothing else is transferred.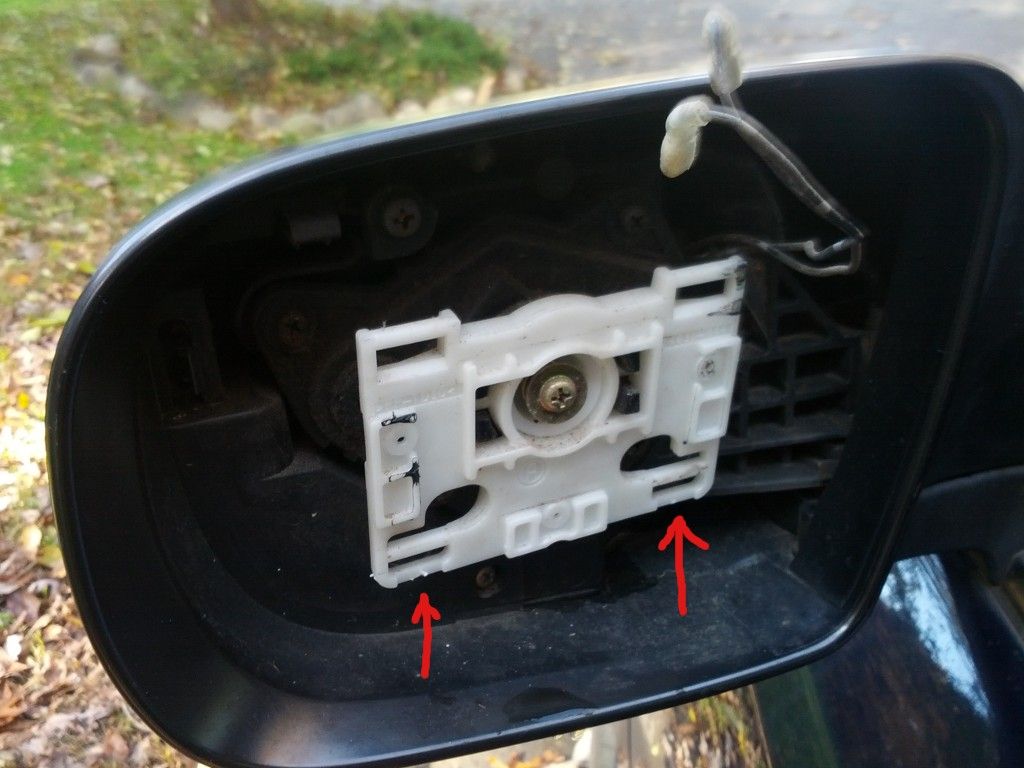 Here is the new mirror: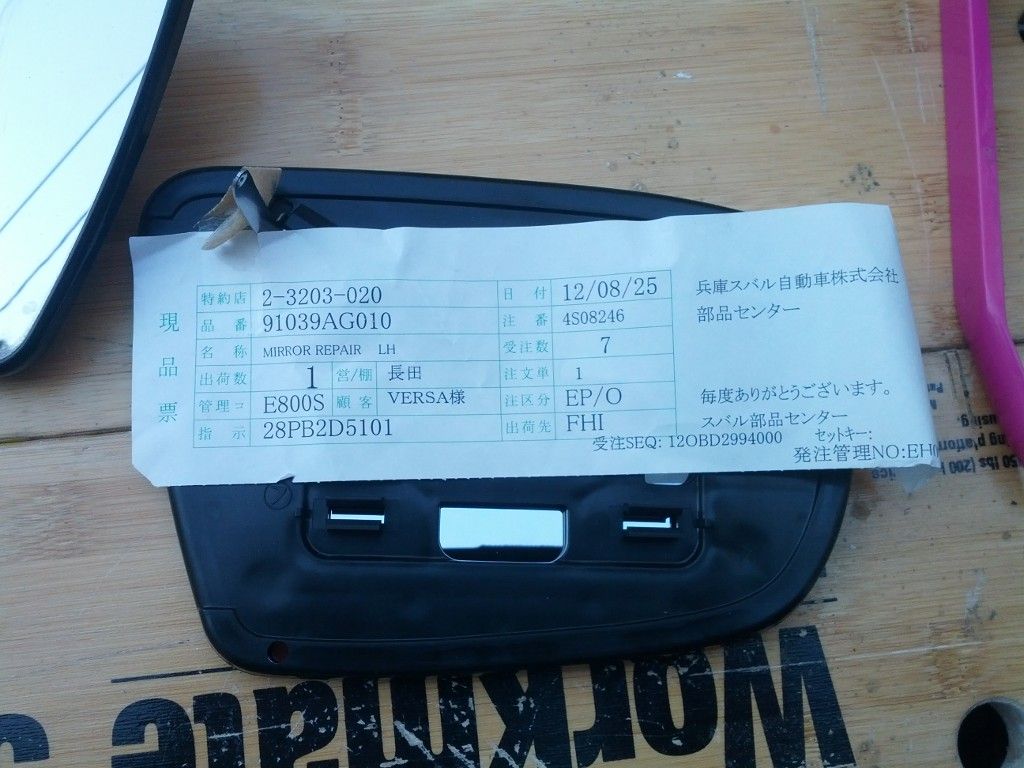 And comparison of USDM OEM LH and ROW LH:
Back (USDM on the left):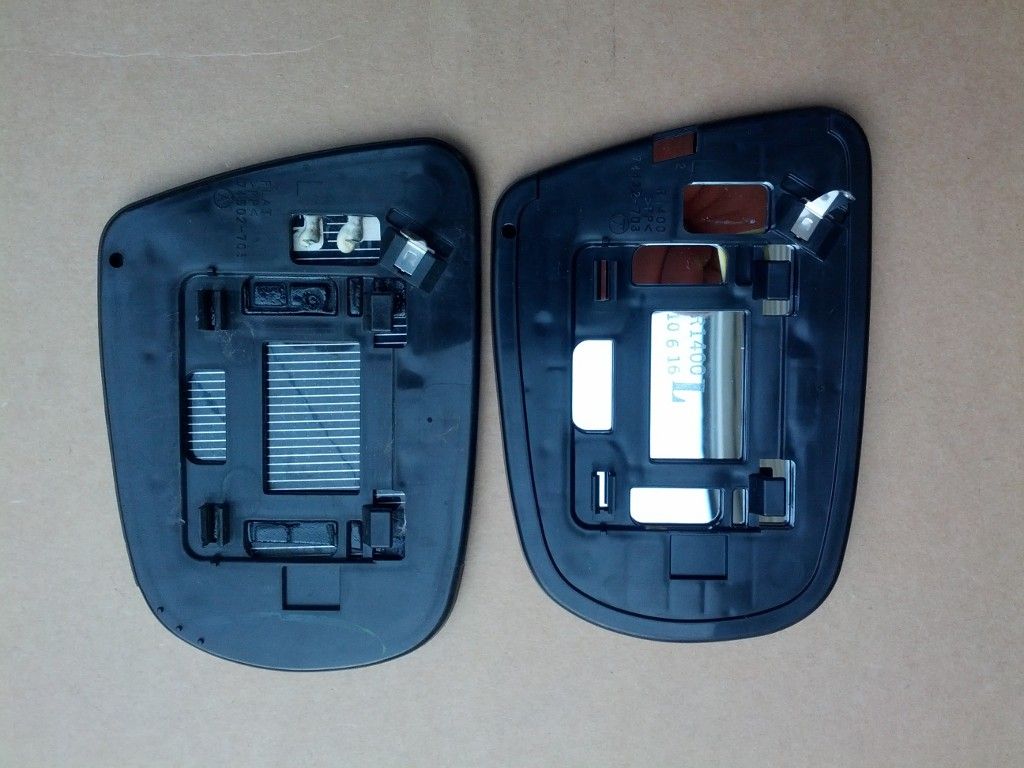 Front (guess which one is USDM):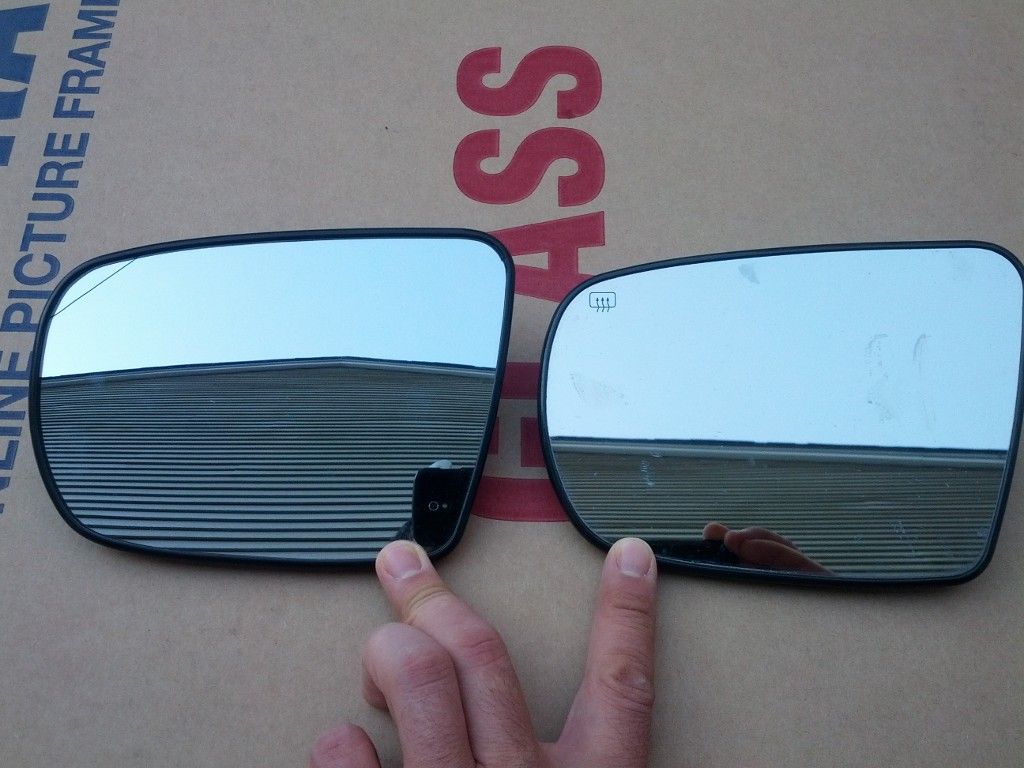 ROW back part # details: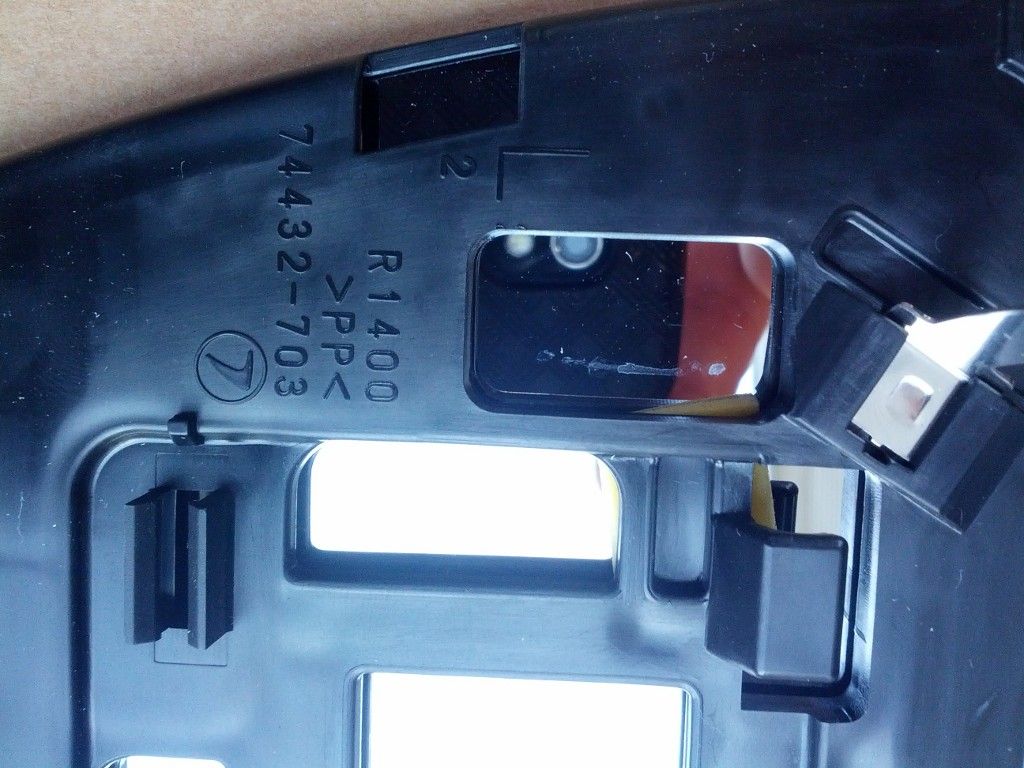 USDM back part # details (notice word FLAT):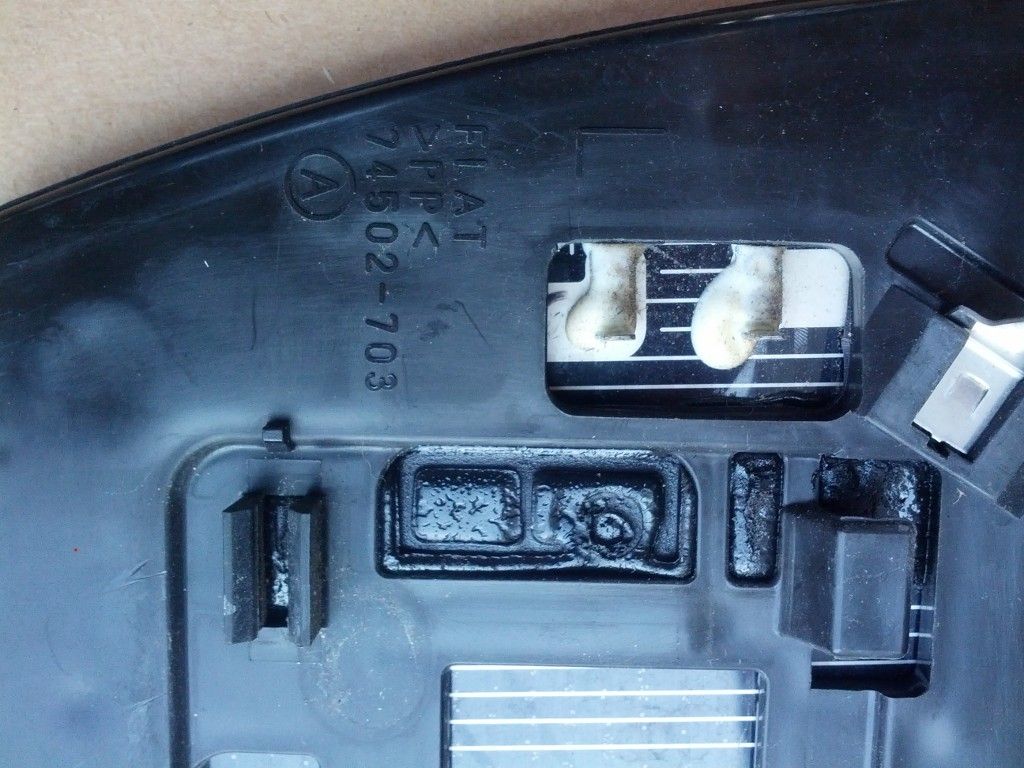 Also, top view to show USDM is flat and ROW is curved: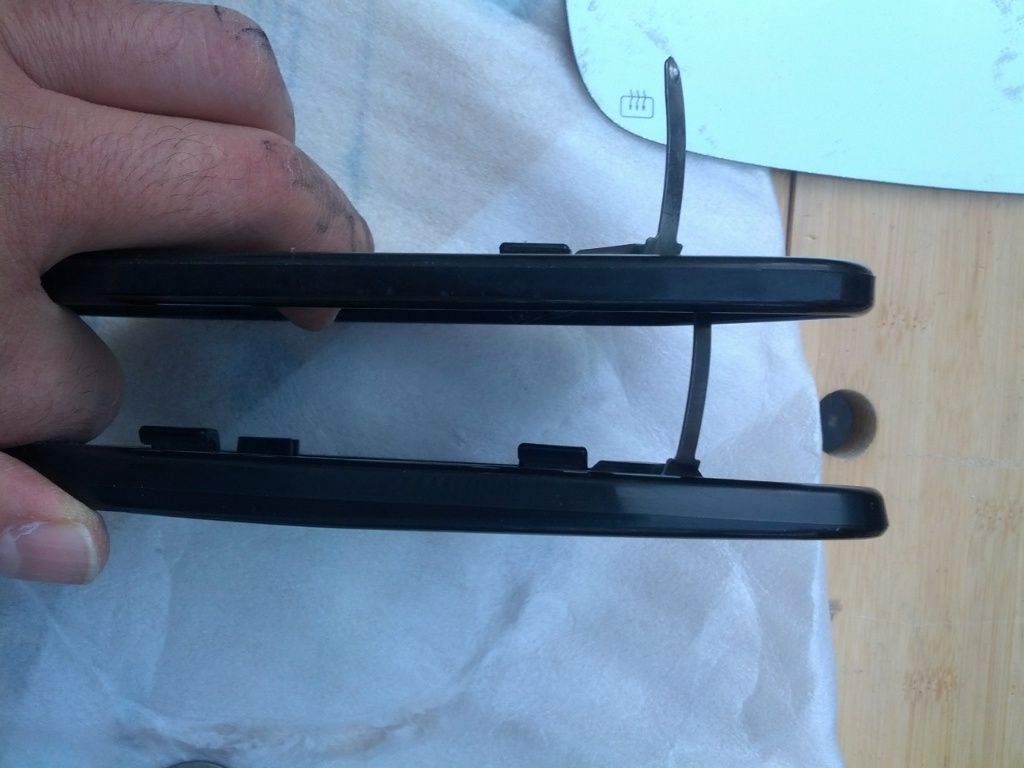 Now we need to transfer the heating element from USDM mirror to ROW.
Using heat gun or hair drier, warm up the edges of black enclosing mirror plate. I suggest you start with ROW mirror because if you break it you won't have to remove the OEM one
. TAKE YOUR TIME and WORK SLOWLY, this is where patience really pays off - I cracked the first ROW mirror I had because I tried to pull it out too fast. It's not too hard, just do not hurry. Start with one of the edges, I had good luck with top outer corner of the mirror, keep the edges warm using heat gun/hair drier. Remember there are two adhesive foam backing supports in ROW mirror - it does help if you cut/smash them while SLOWLY pulling the mirror out. You can destroy these backing supports in ROW as you won't need them. Just don't scratch the back of the mirror - here some plastic tool like trim removal is good. ALSO peel off any remains of adhesive backing of the ROW mirror - you don't want them there to prevent heating element from adhering to glass properly.
Once you have ROW mirror out of the plate, repeat the procedure with USDM - it works exactly the same. The only difference is instead of white/yellowish adhesive supports in ROW there are black adhesive backing strips - these you want to retain so try to separate them from the mirror plate, not from heating element.
Here's what they look like side to side:
Now the most important part - transferring the heating element from USDM mirror glass to ROW mirror glass. Warming up the mirror with heat gun or hair drier, find a place anywhere around the edges of the heating element where you can start peeling it off the mirror glass. There is also some black material between heating element and glass, make sure you peel that off together with heating element. Again, work slowly here, heating element seems to be sturdy enough but still be cautious. Remember to keep the glass warm, it does help.
Once the heating element is off the USDM mirror glass, it is almost done. Assembly is really the reversal of disassembly, just remember that the mirror plates are different, so ROW mirror will only fit into ROW mirror plate and USDM will only fit in USDM since curves are different - see one the pics above.
When installing mirror back a regular flat screwdriver can help. Since the white supporting bracket is flexible I could not snap the mirror plate back into bracket. The trick was to insert regular flat screwdriver and while holding the mirror push the bracket onto the mirror plate with the screwdriver. This takes seconds once you know the trick.
Here is what the view from ROW is: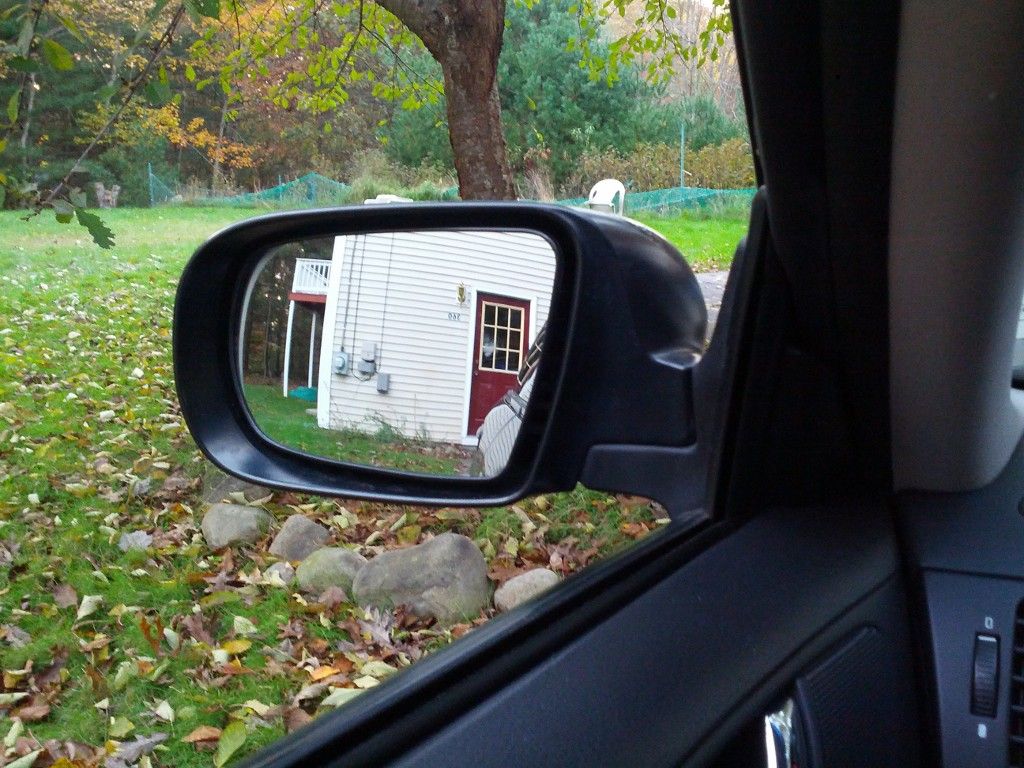 In USDM I could only see the door and little bit of wall next to it. It does take a day or two actually to adjust
but once you do you will wonder how you could drive with the old one.
Enjoy!
My cost to non-heated version 91039AG010 ended up < $50, I do not know whether any JDM goods vendors will be able to provide these and how much they would charge.